General NISBET BALFOUR of Dunbog,
1744-1823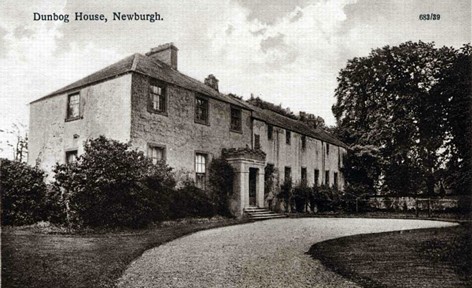 Early 20C postcard by courtesy of Major F. C. Q. Irvine, Laird of Straloch, Aberdeenshire
(Thanks to Chris McBrien)
Nisbet Balfour was born on 20 January (OS) 1744, at Dunbog in Fife (then sometimes spelled 'Denboig'), the third son of Henry Balfour of Dunbog (1708-64) and his wife Katherine Porterfield (1721-before 1791). Nisbet's grandfather, Major Henry Balfour of Dunbog, formerly of the Scots Greys, was the third son of John, third Lord Balfour of Burleigh. Major Balfour had represented Fife in the old Scots Parliament, opposed the Union of Parliaments, and later supported the Jacobites in 1715, as did his brother Lieutenant Colonel John Balfour of Fernie. They were both forfeited for treason. Nisbet's father didn't help matters by lending a horse to a rebel called David Wemyss (Lord Elcho, or just a namesake?) in 1745, or by naming one of his daughters 'Stewart' as a first name!
Nisbet matriculated at the University of St. Andrews in February 1757, but his name appears only once in matriculation record, so it is likely he did not graduate, but was brushing up his studies for a term or two. This was not unusual in 18C, especially with young teenaged students. He joined the 4th Foot as Ensign in 1761, and progressed through the regiment steadily over the next few years: Lieutenant, 1765; Captain, 1770. Meanwhile, on 31 July 1764, his father Henry died, aged 58. The heir was Nisbet's older brother Henry ('Harry'), b. 1741, an officer in the Royal Scots (1st Regiment of Foot). Harry Balfour had already attracted a rather sniffy entry from the minister in Dunbog parish register, as on 9 December 1762:
Mr Balfour younger of Dunbog Commonly Calld Captain had a son was begotten in fornication with Ann Henderson called Henry.
Nisbet and his regiment were posted to the American colonies in June 1774. His comrades included Captain John Webster. He narrowly escaped death at Bunker/Breed's Hill, 17 June 1775, when a musket-ball struck his cartridge box, slightly wounding him in the belly. He also participated in the Battle of Long Island, 27 August 1776. The Howes sent him back to London with their dispatches and instructions at the end of September 1776. He arrived on 2 November to find that his older brother, Major Harry, had been accidentally shot in the head while fowling by another brother (probably Walter) at Fort George, near Inverness, 1 October. A passing comment of Patrick Ferguson's suggests that the weapon was a double-barreled gun, then regarded as technically unreliable and dangerous. The family suffered another bereavement shortly afterwars, when Aunt Emilia Balfour, widow of David Clephane of Carslogie, died at Anstruther on New Year's Eve.
Nisbet wintered in Scotland, and returned to the Colonies a Major, sailing on 28 March 1777. After the Philadelphia campaigns, he was appointed Lieutenant Colonel of 23rd Foot in 1778 while in Philadelphia, selling on his Majority in the 4th to Sir James Murray (future Secretary at War, Sir James Murray Pulteney), a cousin of Patrick Ferguson. He matriculated his arms as Balfour of Dunbog with the Lord Lyon on 24 April 1779, and took part in Clinton's expedition to the Southern colonies in December.
As Commandant at Fort Ninety-Six in 1780, he was involved in recruiting Loyalist militia, with Patrick Ferguson. However, they seem to have had something of a personality clash: Ferguson did not keep Balfour informed of his communications with Clinton and Cornwallis over fortification plans, and there were tensions between them. However, in August Nisbet Balfour was appointed Commandant in Charleston by Cornwallis. Brevet Colonel 1781.
He served as a commissioner for examining and processing Loyalist claims in the aftermath of the war, and became a Burgess of Edinburgh in 1783.
The family estates were restored in 1784 by the Disannexing Act, and in 1791, after their mother's death, we get a pen-picture of the Balfours in her will. Only 6 of the children were still living: Nisbet; Walter, now a writer in the East India Company (perhaps a sensible career move, if he was the one who had shot Harry!); Elizabeth, widow of Thomas Boswall, accountant in Edinburgh; Euphan; and Jean and (Ann) Stewart, who had both recently got married - Jean to Captain Thomas Inglis, Stewart to Robert Stewart of St. Fort and Castle Stewart (HEICS).
Nisbet served as MP for Wigtown Burghs 1790-96, and for Arundel 1797-1802. He was and as Major-General under Abercromby in Flanders. He becameADC to His Majesty, 1782-93. Major-General 1793. Colonel 93rd Regiment and 39th Regiment 1794. Lieutenant-General 1798. General 1803. He died, unmarried, on 16 Oct. 1823, aged 79, at Dunbog, where he is buried.
Balfour enclosure, Dunbog, Fife

Nisbet Balfour is buried in a walled family enclosure in the small cemetery in Dunbog. He rests between his unmarried sister Euphan or Euphemia (1750-1829) (right), and his sister Ann Stewart's son Lieutenant-General William Stewart Balfour of Arbigland (1800-69), formerly of the Coldstream Guards (left). (Ann Stewart had died in 1845.) Euphan's headstone was raised by her nephew Francis Balfour of Fernie (c. 1777-1854) the son of Amilia or Emily Balfour (b. 1751, d. before 1791, twin of Janet), another of the Dunbog sisters, and her husband (and second-cousin) Dr. Francis Balfour of Fernie.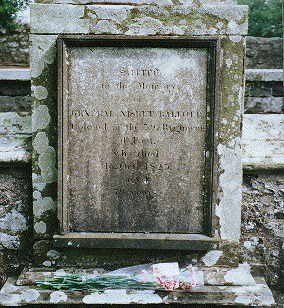 Sacred
to the Memory
of
GENERAL NISBET BALFOUR
Colonel of the 39th. Regiment
of Foot
who died
16th. Oct. 1823
aged
79 years.
Return to Top